TURBINE DELIVERIES
Turbine deliveries at Evishagaran have now commenced. Travelling in convoys of three and accompanied by escort vehicles, from the A2 the delivery vehicles will join the A37 until they pick up the A29 at Drumcroone Road Roundabout. Vehicles will stay on the A29 before turning onto Churchtown Road, then onto Temple Road and Legavallon Road. They will then turn left off Legavallon Road before exiting onto Gelvin Road. From Gelvin Road vehicles will turn right onto American Road until reaching the site entrance. There will be up to two convoys a day and deliveries will take place outside peak travel hours.
Click on the image below to enlarge.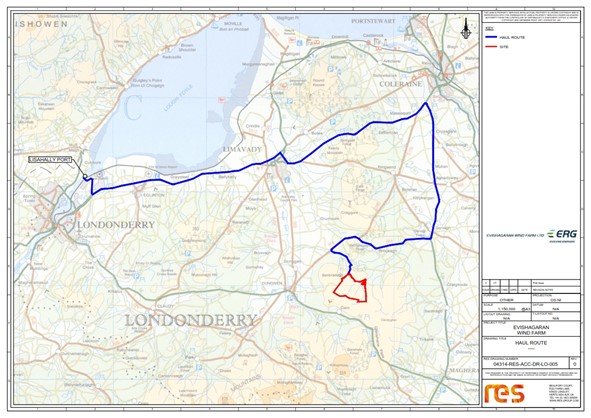 There may be slight delays to journeys if you are travelling along the road behind the turbine components. We would like to apologise in advance for any inconvenience that this may cause and thank you for your patience.  If you would like to talk us about the planned works or you see anything that concerns you whilst they are happening, please contact us.